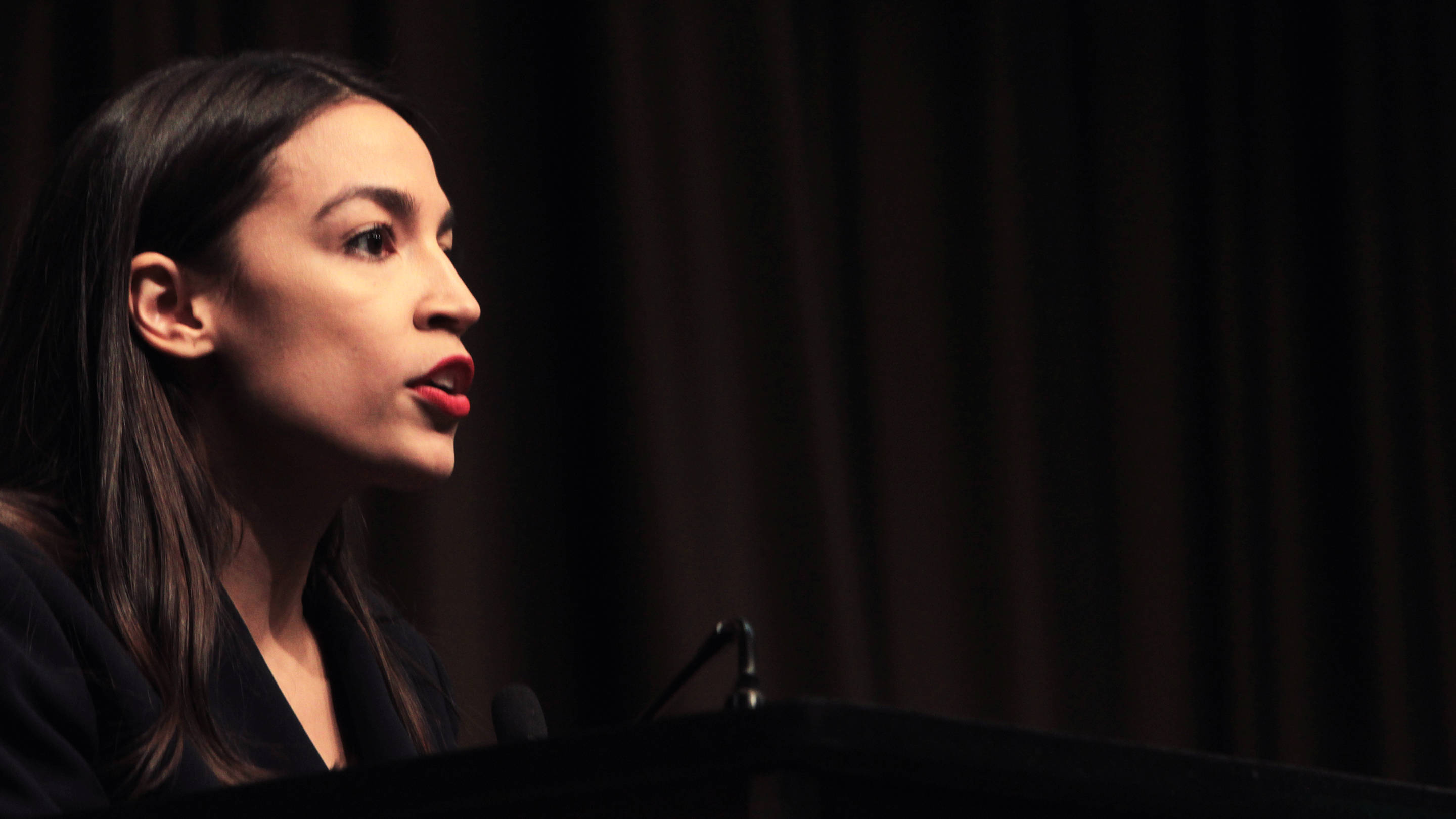 The Bipartisan Evolution of Alexandria Ocasio-Cortez
Less than a month after Alexandria Ocasio-Cortez defeated Congressman Joe Crowley in the Democratic primary, I was at a party thrown by Politico. The event was at a swanky new bar with the Potomac River nearby and Crowley, with less than six months to serve in a congressional career spanning two decades, climbed onto the stage and slung a Fender Telecaster over his linebacker shoulders.

I don't remember each song that Crowley played, but I remember that he played Van Morrison's "Brown-Eyed Girl," and I remember the detail because after the first verse—hey, where did we go?—I looked to another reporter to ask if he'd ever seen anything more depressing. Crowley was a good politician and though his departure wasn't upsetting, him dragging us through his farewell tour felt like some unnecessary evil. Washington knew that Crowley would move into lobbying and cash in on public service. He landed at Squire Patton Boggs, the fourth-largest lobbying house in the nation.

Two months later, I met Alexandria Ocasio-Cortez for the first time at a gloomy little community center in Wilmington, Delaware where she was campaigning with a woman named Kerri Harris, who was hoping to unseat Sen. Tom Carper. Behind the center slunk train tracks of the sort that you played along if you grew up poor. The town hall could not have been in a more separate world than the Politico party with Joe Crowley and the lobbyists and the open bar and the Fender guitar from the rented band. The event was months before Ocasio-Cortez won the general election, but the bartender-turned-lawmaker was already one of the most famous people in the not-yet-elected 116th Congress.

When I tell people that I sometimes write about Capitol Hill, they want to know if I've met Ocasio-Cortez and "what she's like." She is tiny, very small and her glasses are even larger from two feet away and her lipstick even brighter than in the photos. She seems to always be clutching a thermos and carrying a bag on her shoulder that she adjusts with a short shrug.

She's regularly accused of being too ambitious, but genuine ambition is rare and admirable.

Most Capitol Hill junkies had early doubts about her ability to legislate. Freshman members of Congress are rarely effective, and they are usually reported on for their embarrassments. They come into this town doe-eyed before the cynicism sets in. One of my friends, a reporter who covers AOC often, told me "she's certainly gotten more press-savvy since her first week in Congress. But then I'll see a story—like the one that suggested she wanted to primary Chuck Schumer or Kirsten Gillibrand—and be reminded that it's still sometimes amateur hour."

But the youngest lawmaker in the history of the U.S. Congress has matured in her role. On June 16, she appeared on ABC's "This Week"—her first Sunday show appearance since her inauguration. Communication staffers for freshman members are often shy about letting their bosses on Sunday shows because the arena drives news cycles and is more confrontational than the typical television appearance. But the New Yorker performed.

She's regularly accused of being too ambitious, but genuine ambition is rare and admirable. AOC's ambition has led her to an unlikely ally: Sen. Ted Cruz. Ocasio-Cortez and Cruz have partnered on a number of initiatives, including banning former members of Congress from becoming lobbyists and trying to make birth control over the counter.

Asked what other issues she might work with Republicans on, Ocasio-Cortez referenced defense spending and government surveillance. Asked if she thought, when she first entered Congress, if she would be working with Republicans, AOC told Playboy, "Ted Cruz? No, I did not think that would happen. But I did think that certainly and ironically with some Tea Partiers. Even though we may have different logic or different reasons for coming to the same conclusions, we do come to the same conclusions on certain things. Legalization of marijuana being one."

Even though we may have different logic or different reasons for coming to the same conclusions, we do come to the same conclusions on certain things.

The young lawmaker still has problems; though not the silly culture issues that right-wing blogs aim to crucify her upon. She lingers somewhere between confused and clueless when talking about how money functions in politics. She trashes solid reporters and solid reporting about her when she doesn't like it—she has a long-standing feud with one of the city's most airtight fact-checkers. Her followers can be cultish, which has never turned out a healthy political atmosphere. And there's a definite air of perceived superiority that lingers when Democrats on Capitol Hill but outside her inner circle talk about her. There was the time her employees bad-mouthed other Capitol Hill staffers in The Washington Post or the never-ending suggestions that AOC is looking to oust other members of Congress. The social criticisms deserve to be scoffed at, but they matter too much in a city where everybody cares too much about the hierarchy and the pecking order that it represents. Perhaps stirring discomfort is a good thing.

Though she's evolved as a politician, one thing remains unchanged: her Twitter and Instagram presence. Her feud with the Post's fact-checker played out on Twitter, and at 4.4 million followers, she has more people watching her online than the Speaker of the House. She has more than Cory Booker, Kirsten Gillibrand and Kamala Harris. In fact, she has more followers on Twitter than every single candidate except Bernie Sanders and with 3.6 million Instagram followers, she has more than all of them.

The Cruz alliance traces back to Twitter. The Texas lawmaker told Playboy, "In both instances, the collaboration started because she tweeted." He went on to tell me, "There can be power to people coming together and coming together from different points on the political spectrum."

The young lawmaker is known for starting trends and moving policy. Asked if he thinks AOC's willingness to work across the aisle signals a change or might become a characteristic of the progressive branch, Cruz said "I don't know, in the House right now, the primary driver in the Democratic caucus seems to be anger with the president. That's not terribly conducive to bipartisan cooperation, but where we agree on policy and where we agree on good ideas that benefit the interest of the American people, we should work together."

There's no doubt that Ocasio-Cortez is going to become something bigger, and the Ted Cruz saga appears to be a point of evolution into what that something bigger might be. She represents a strong Democratic district though she seems content to stay in the House of Representatives. Rumors of her primarying Chuck Schumer routinely circulate, but they don't seem to hold water. Instead, the young trendsetter will likely continue to trudge toward change from her role as the most powerful 29-year-old in the United States.

In the wake of Ava DuVernay's 'When They See Us,' we imagine what prison abolition could look like