"You want to smoke?" Ezra Miller asks me on the patio of his West Hollywood hotel room, reaching over to hand me his joint as I dry my tears with my hand. The 26-year-old actor, who plays Credence Barebone in Fantastic Beasts: The Crimes of Grindelwald and is one of the film industry's most fascinating rising stars, has been smoking from the impressive joint since my arrival 80 minutes ago. (It is meticulously rolled.) Upon seeing me cry heavily during our conversation, he decides to share the wealth. After a single puff I cough profusely, much to my embarrassment. Ezra Miller smokes some good shit.

This is not how I expected this interview to go. Up until now, I had never cried during a work assignment. But it's unlikely that anyone can predict how an interview with Ezra Miller will go. I wasn't even planning to end up in his room; we were initially scheduled to chat the day before at the photo studio where the star posed for his gender-bending Playboy shoot, complete with Bunny ears, fishnets and size-14 heels, all per his request. When the shoot ran long—after all, it included a sizable break during which he smoked a joint as someone shaved his stubble—his publicist suggested that Miller and I meet up in the morning at the hotel restaurant, and so she made us a reservation for 11:30 a.m.

The next day, Miller spots me waiting just outside of the restaurant and whisks me off to his room. Upon entering, he gives me a quick apology for the untidiness, including an empty plate. (As a former restaurant reservationist myself, this is a good time for me to publicly apologize that neither of us actually canceled our reservation before hightailing it to his room. Sorry, won't happen again.)

I'm trying to find queer beings who understand me as a queer being off the bat, and I feel like I'm married to them 25 lifetimes ago. And then they are in the squad—the polycule.

Miller directs me to his room's patio, where I grab a chair next to an end table that's bare except for a large crystal. He soon follows me outside and immediately hands me a bottle of pine pollen that he encourages me to squeeze into my mouth and hold under my tongue, warning me it will burn. I realize too late that I should have squirted the liquid into my mouth, as Ezra himself does immediately afterward, rather than keeping the dropper in my mouth like a thermometer, which elicits a laugh from him. I notice he didn't bother changing out of yesterday's clothes, including a T-shirt screen-printed with "Avada Kedavra," the worst of the Unforgivable Curses from the Harry Potter universe. The shirt, appropriate attire for a devoted Potterholic such as Miller, features the same triangular-patterned message that will appear in ink on his hands a couple weeks later when he attends the film's U.K. premiere wearing a feathered homage to Harry's pet owl.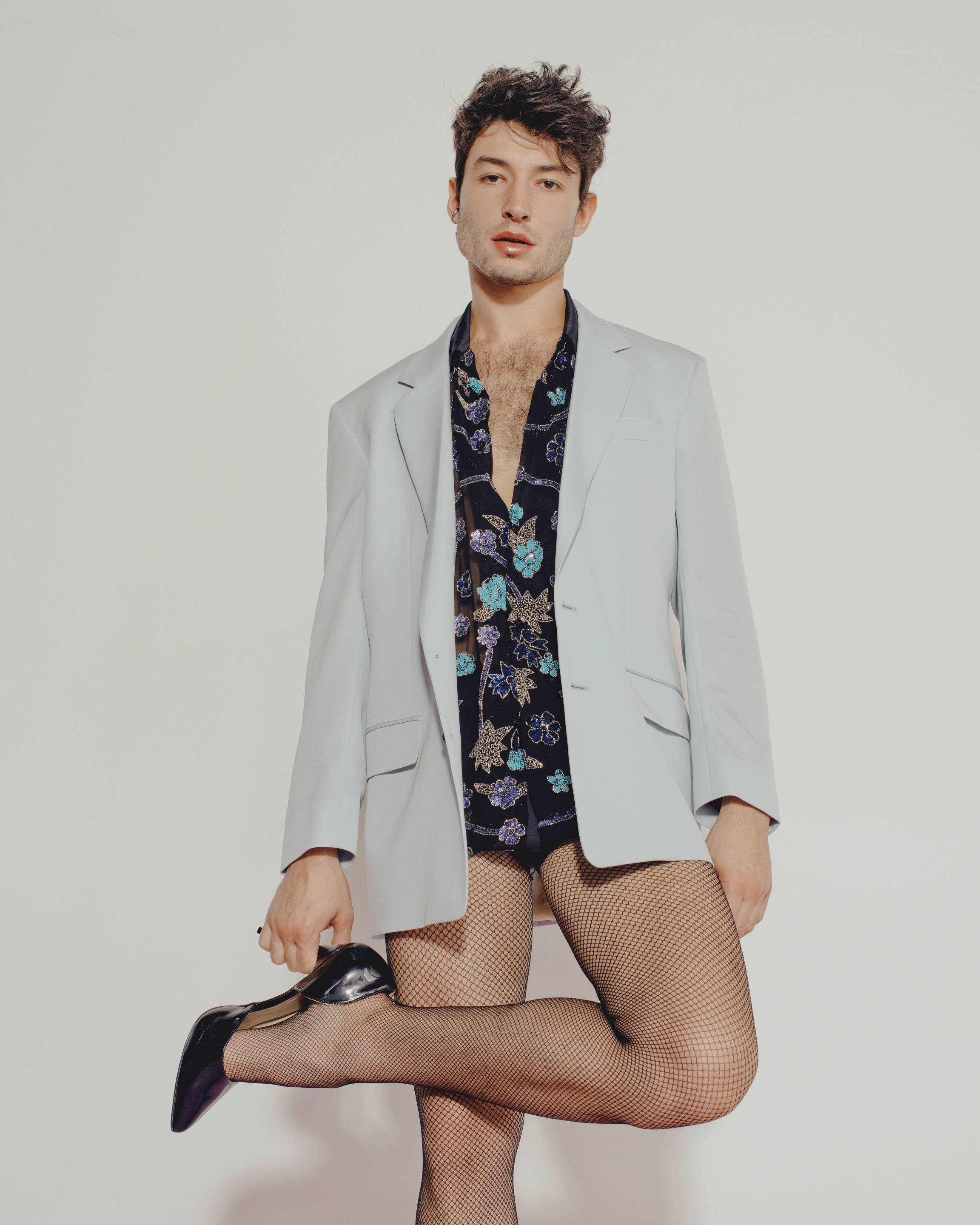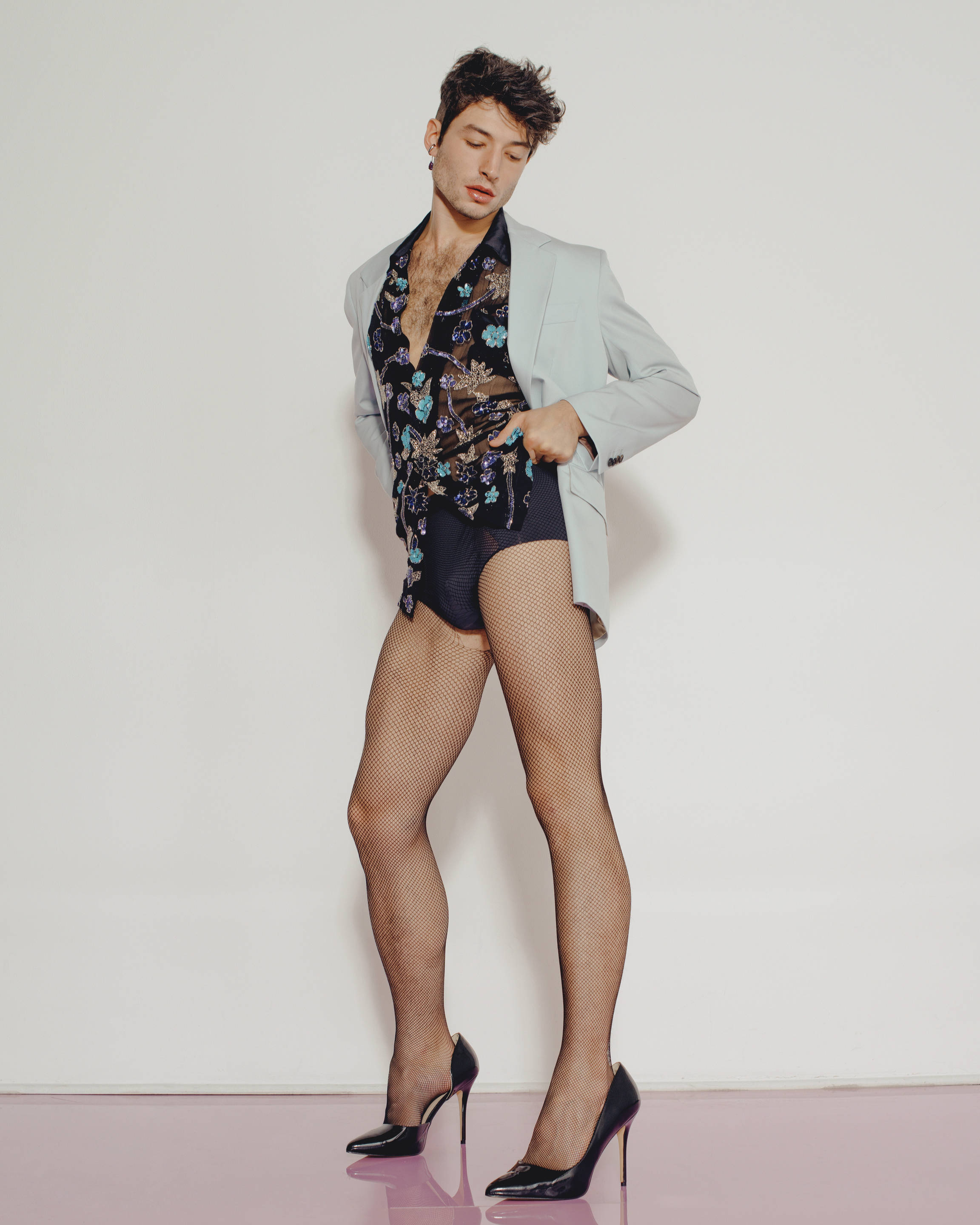 Undeniably, this is a moment in time for the energetic, garrulous and highly spiritual Miller, who casually loads his conversations with references to philosophy, history and political theory. (A sample question he asks me, without an obvious impetus: "You ever think about water, dude?" which leads him to a discussion of Shel Silverstein's
The Giving Tree
.) He has seen his star ascend wildly following his breakout roles in 2011's
We Need to Talk About Kevin
and 2012's
The Perks of Being a Wallflower
, and his attention-grabbing, boundary-fluid, red-carpet style has been the subject of numerous recent headlines. For many fans, his wisecracking Flash was the best part of last year's
tepidly received superhero-stacked 
Justice League
,
and a solo film for his red-suited savior remains in the works—though when we'll actually see it remains a question mark (more on that later).
And so, the
Fantastic Beasts
films have become his calling card.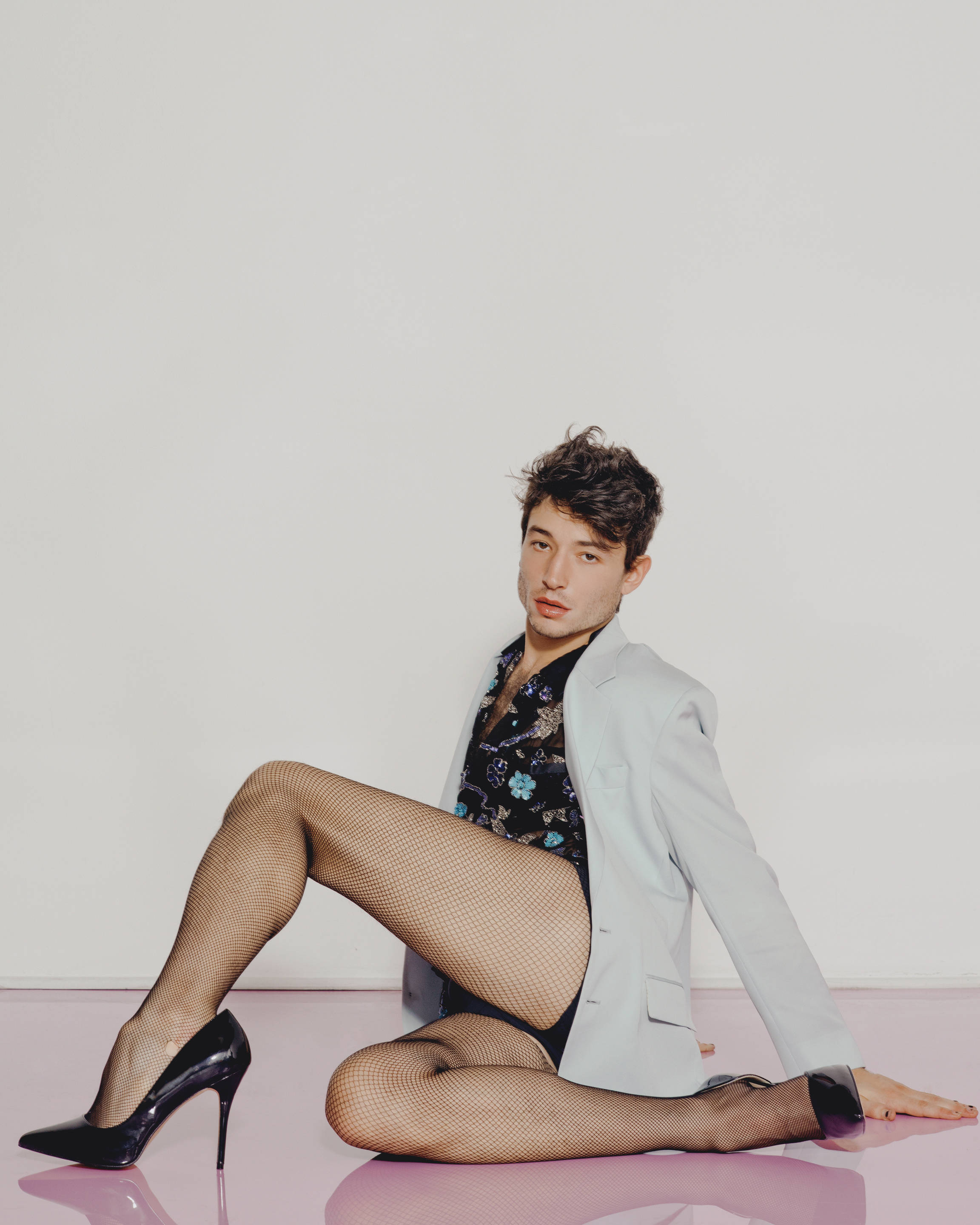 "I've never ever quite met anyone like Ezra," David Yates, who directed the final four films in the Harry Potter series and the first two Fantastic Beasts, tells me. Yates praises Miller as "quite simply a sublime actor" who is "universally loved" by his Beasts cohorts. "He brings a good deal of joy with him every time he steps on set. Between takes, he'll either be doing some Mongolian throat singing, practicing chi gung or just having a laugh with the crew." I don't get treated to any throat singing during our time together, but Miller does impersonate Yoda at one point, after he says that he, much like the Jedi Master, doesn't believe in "try."

Sometimes, I don't have sex for a really long time because a lack of sex is as important to me as sex. There's definitely a lot of sexless, lonely time when playing Credence.

There is no shortage of narratives in the media surrounding Crimes of Grindelwald in the lead-up to the film's November 16th release. Perhaps the buzziest point of discussion focuses on the romantic relationship that the film teases between Jude Law's young Albus Dumbledore and Johnny Depp's Gellert Grindelwald. This follows J.K. Rowling announcing after the conclusion of the Harry Potter book series that Dumbledore is gay. Miller is here for it—and he somehow knew it was coming, even before he actually knew it was coming.

"I definitely started drawing conclusions about [the romance] from the time that we first started working on the first film," says the actor, who personally identifies as queer and sees it as "an umbrella of non-identification." He makes it clear that, like any true Potter devotee, he trusts that Rowling—"Jo," as he calls her—would make the right call, despite fans expressing concerns on social media over the first trailer not addressing Dumbledore's sexual orientation. "Knowing that Jo, with that brilliant mind for the ambiguity of people—morally, in terms of how we classify them on a spectrum from good to evil—I knew that she would be interested in exploring."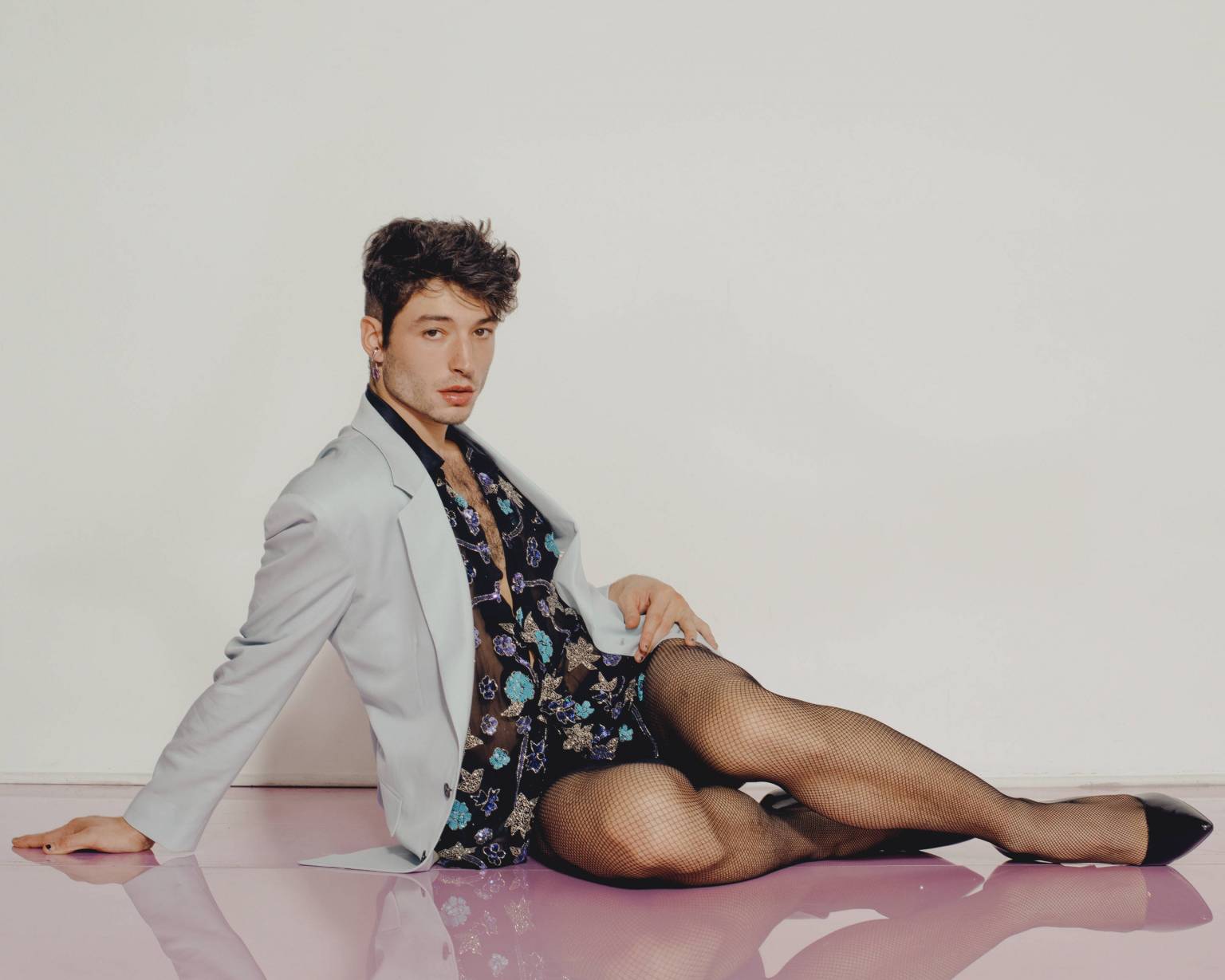 Another narrative surrounding the film
is Depp's involvement in it
—and this is a topic that Miller, who otherwise has no problem (and I mean,
absolutely
no problem) weighing in thoughtfully and verbosely on anything and everything, seems uncharacteristically stymied by. Amid outcry in late 2017 over Depp's prominent role in the new film, following
ex-wife Amber Heard
's allegations of abuse, Rowling defended Depp's involvement, citing the former couple's desire to move forward.
When I ask Miller if Rowling said anything to him about Depp appearing in the film, he replies, "No, none of us were consulted. None of us knew." Miller has an even tougher time answering my follow-up question on whether he was fine about costarring with Depp. "Look, I bring forth my work to this job, and I do the best that I can," he says. After a lengthy pause, Miller continues diplomatically: "I would say that literally every single aspect of my reality, inclusive of a lot of things that are not fine with me, are fine with me. It's amazing how far the banner of all good can extend."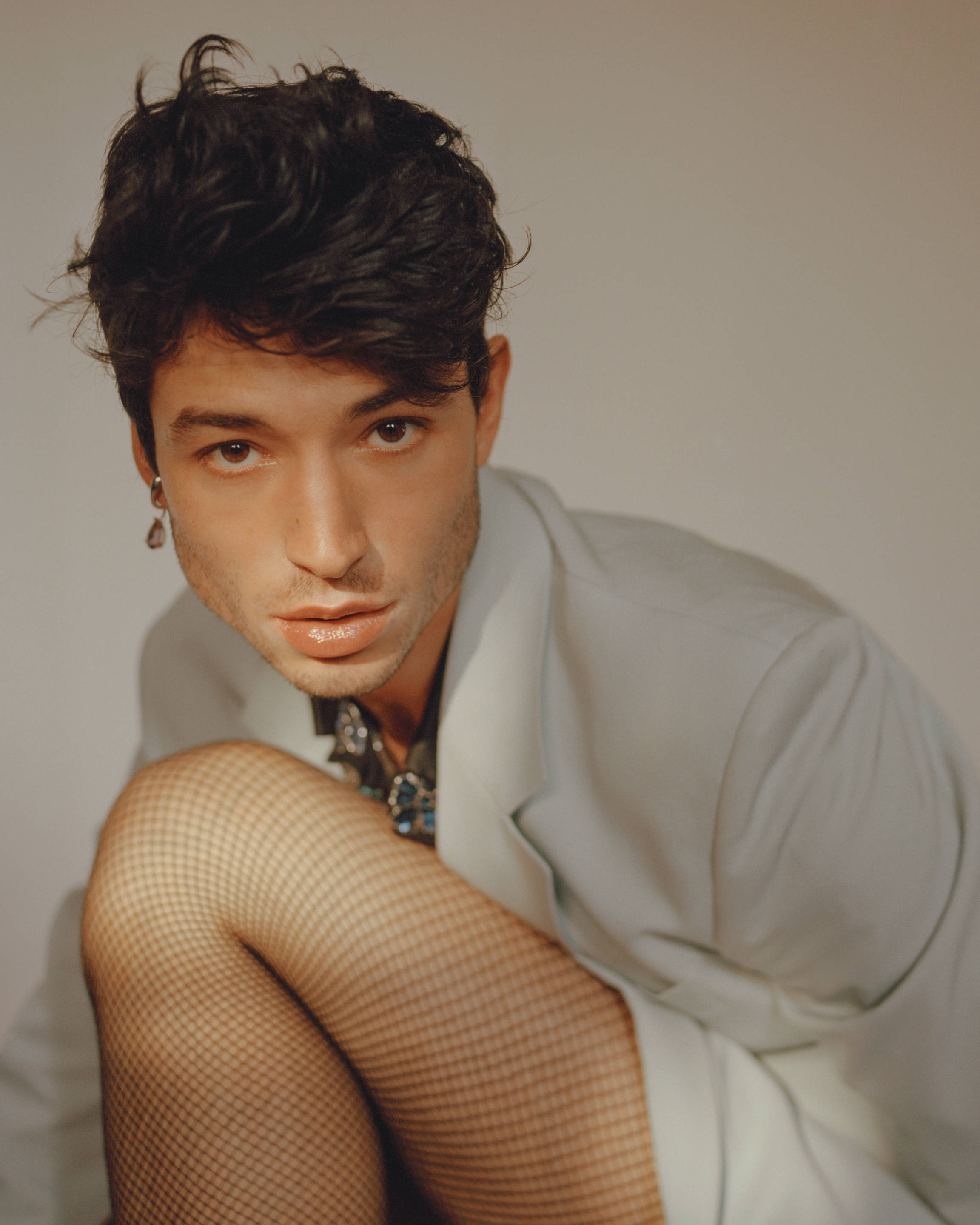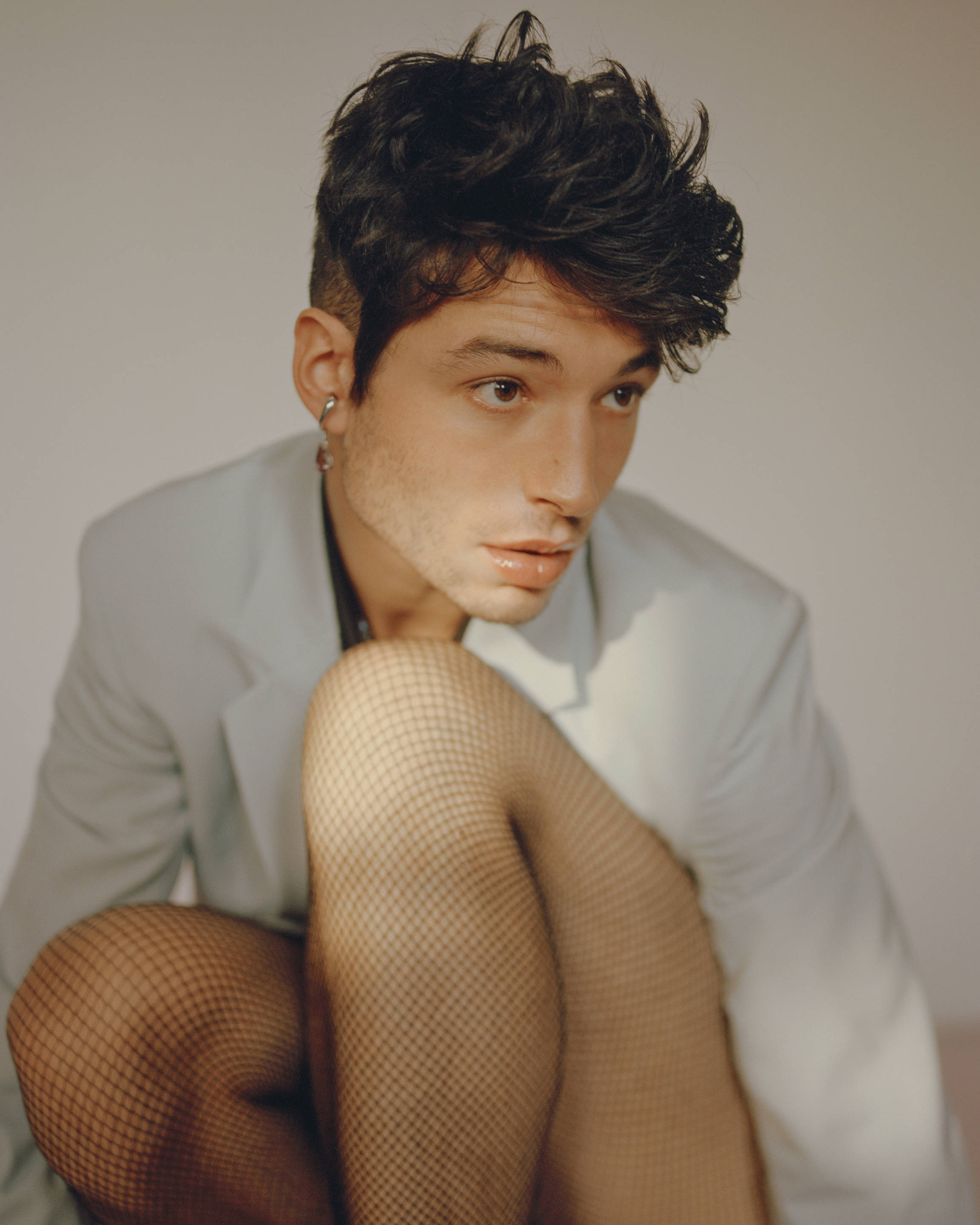 An additional point of focus is the villainous Grindelwald's seeming likeness to Trump, given that the film is set just before World War II and includes the charismatic, oddly coifed wizard imploring his followers to band together against those different from them. For an ardent student of history like Miller, the film's relevance is not lost. "If you're a history fan, you're very
worried right now in global politics,
" he says. "If you like history, you're bugging out because you know which way this goes. And so, the story we're telling in this movie is actually quite universal." He points out that it is "conveniently timed" that the anti-fascism message of the film mirrors today's real-world concerns. "You can tell that something [in our world] is wrong."
---
Kyle Patrick Alvarez, who directed Miller in 2015's
The Stanford Prison Experiment
, tells me he "adored" working with the actor. "The nicest thing I can say about him is that I really believe there's no one else like him, both off- and on-camera."
Miller has plenty of thoughts that aren't typical of a Hollywood power player. For one, Miller contemplates death. A lot. How often? "Every day, all the time, that's the samurai way," he says, turning it into a song. "Hello, hello! Yeah, absolutely. In Buddhism, they say to think about it five times a day." When I point out it's appropriate we're meeting on Halloween, given his fascination with magic and the supernatural, he offers, "Maybe the dead will talk to us in this interview. They probably already are."
I've been attacked repeatedly in my life—I've been attacked by fucking bigots, man. Of course I've been in audition situations where sexuality was totally being leveraged.

Miller was born in New Jersey and had a difficult adolescence, which included literal growing pains. "I have weird bones, you know, Ryan?" When I tell him I don't know, he asks with a mischievous smile, "You want to feel them? Are you sure?" He then takes my hand and puts it on his arm, neck and sternum, and indeed, he definitely has some bones in there that doctors can't explain, and which still cause periodic soreness to this day.

He also was bullied due to a severe speech impediment that led his parents to enroll him in speech therapy. He hated those courses so much that he told his family, "I'd rather be broken than having someone trying to fix me all the time." Instead, he conquered his stutter through singing, a development that he credits in part to the occult: "I started singing because this woman, my kindergarten music teacher, did a very particular type of witchcraft, which is something a true artist can do to any child who carries a creative energy. Essentially, you just point your wand—which is your finger—at that child, and you say, 'You are an artist.'"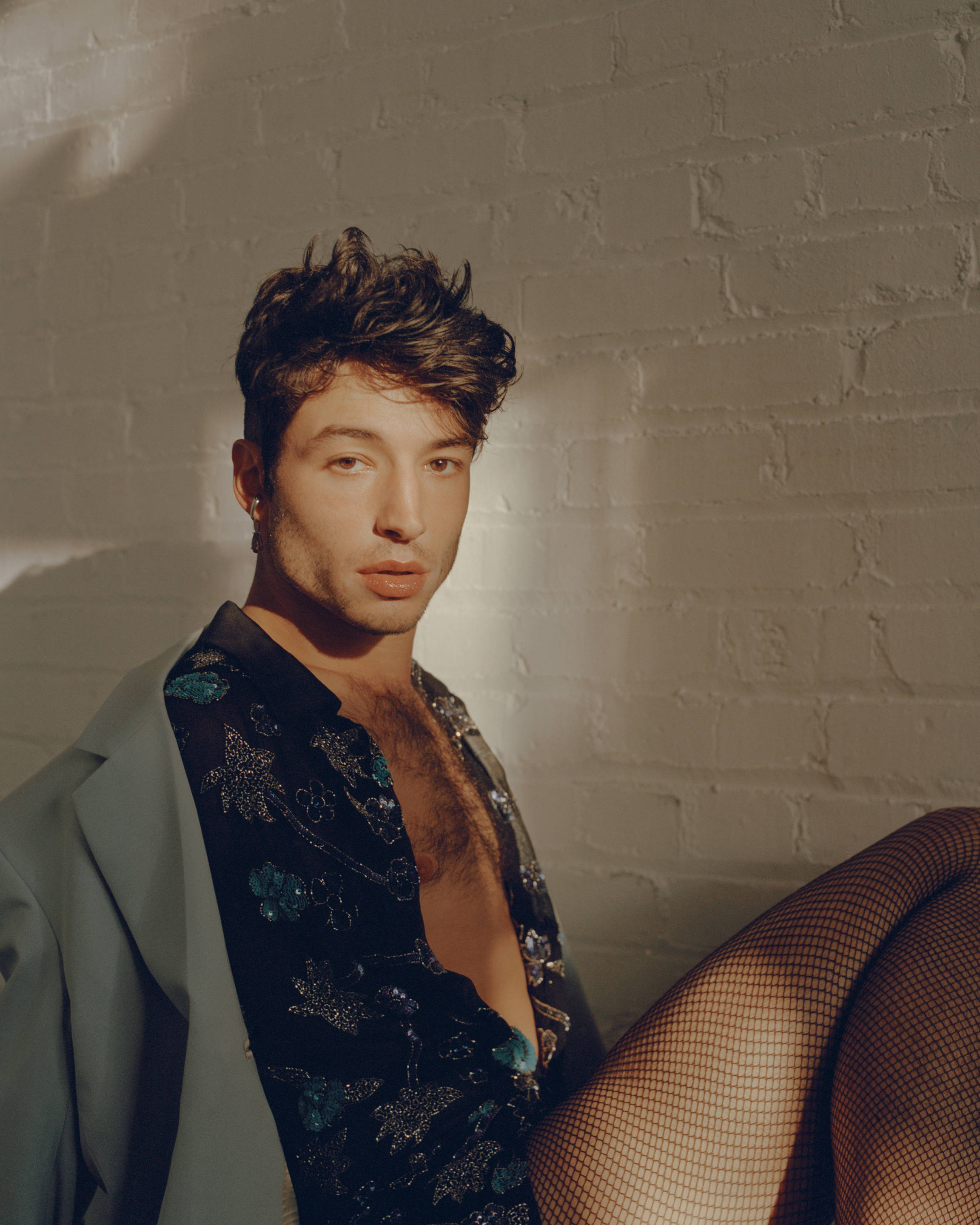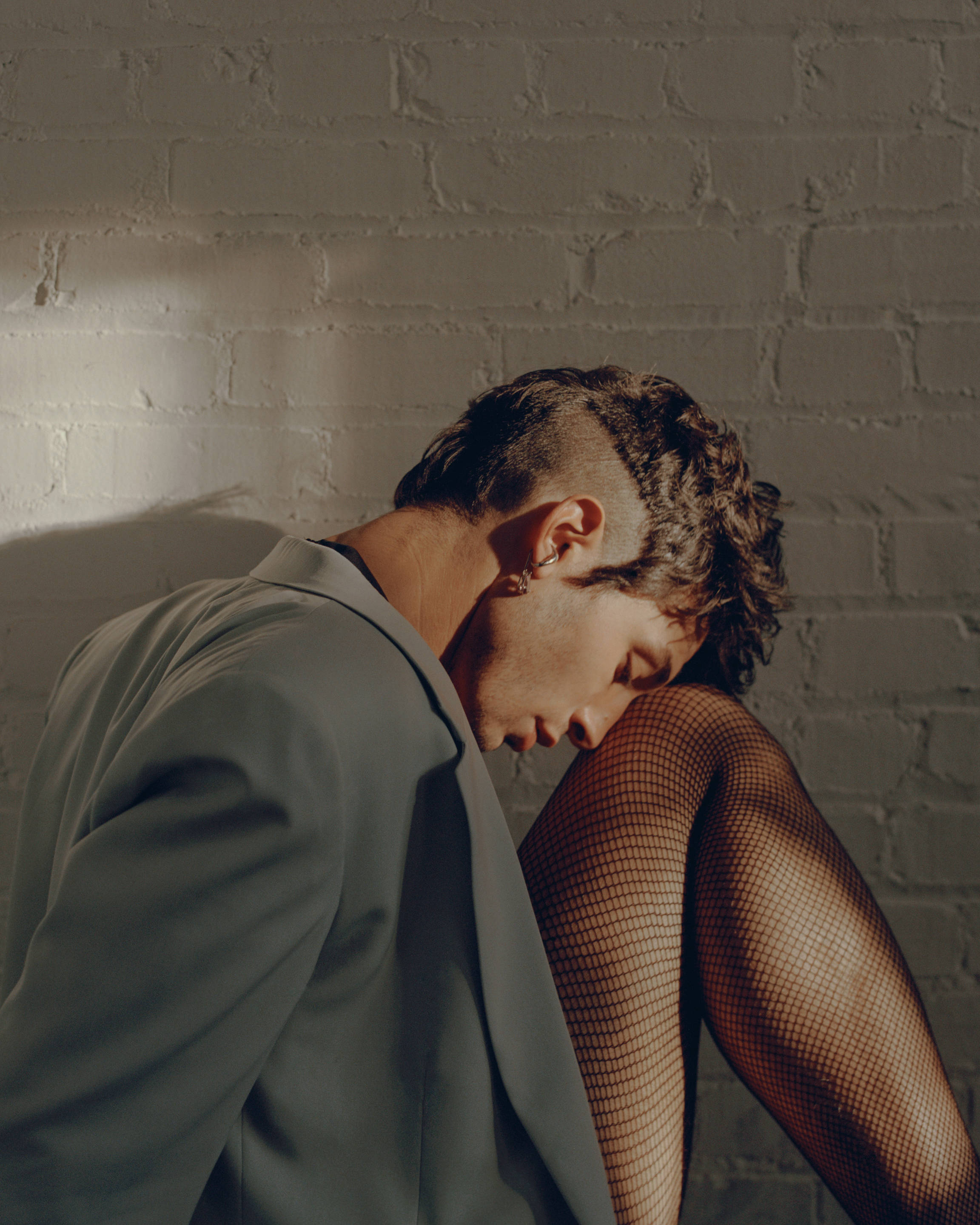 Kindergarten was a pivotal time for young Ezra. It was the age at which he fell in love with a male classmate, leading him to ask his older sisters if he's gay. Miller, who dropped out of high school at 16, remembers having his first sex dream at the age of four—it involved a witch imprisoning him on a waterspout, an experience he recalls as "tantalizing and delightful."

He later tells me, in reference to discussing the sex dream and his unusual bones, "It's funny when an interview starts, and you suddenly realize the stuff you're going to end up talking about that you've never talked about with anyone." When I ask him if he has an early memory of Playboy, he describes a time in elementary school when he and a boy a couple years his senior—"a friend and also sexual partner"—found a sexy stash of items belonging to the boy's divorced mother: Playboys, the Kama Sutra ("I remember it being very influential"), lingerie. "We would jerk each other off while we interacted with that stuff in various ways, actually," Miller says, quickly smirking self-consciously over how much he just divulged.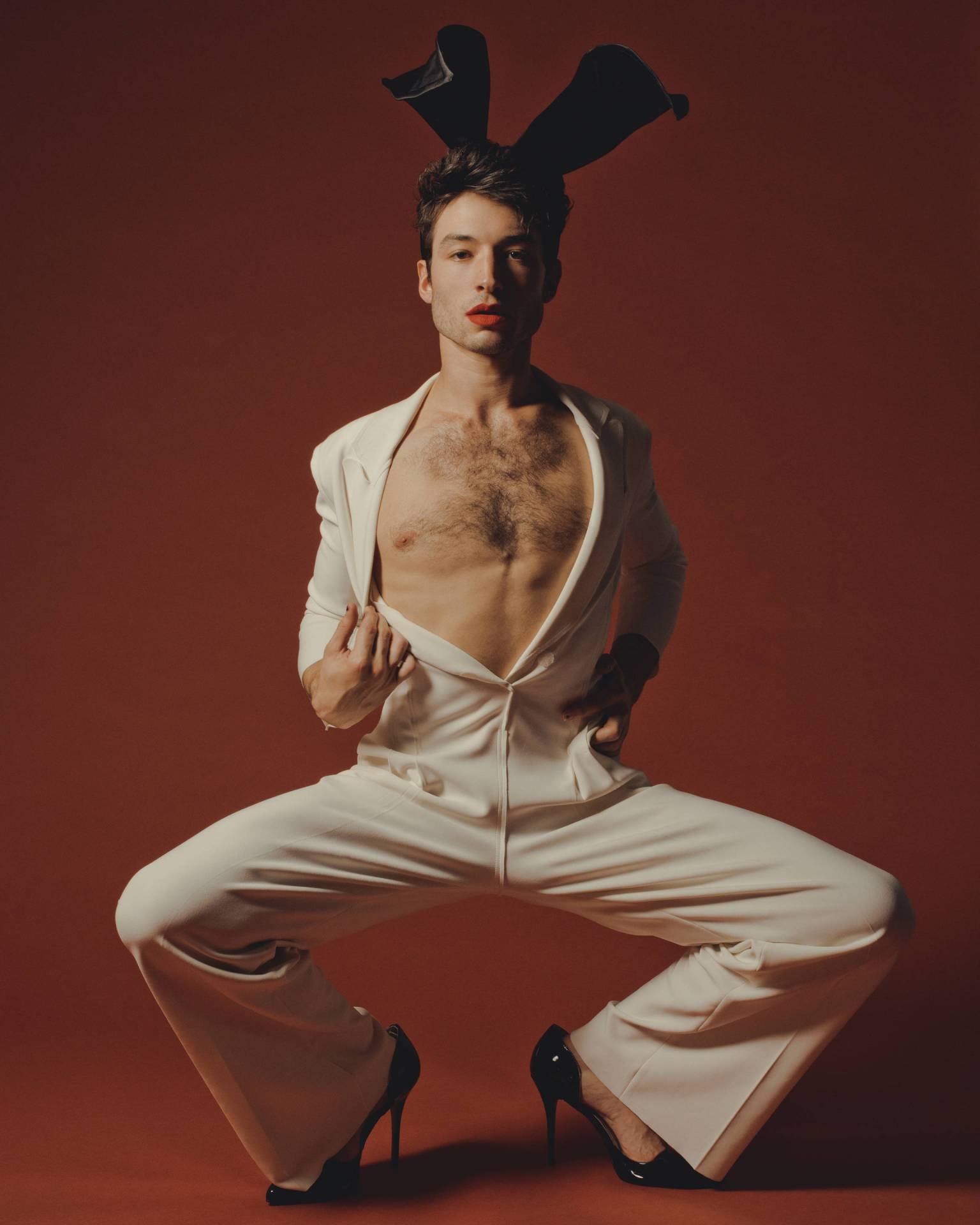 Miller, who is attracted to men and women, tears up when he tells me he has experienced a lot of heartbreak. As a result of these failed relationships, he says he has abandoned trying to find his perfect romantic partner, deciding that monogamy isn't for him. Calling himself a "sexual being," he instead finds companionship with a group of sexual partners he refers to as his "polycule," a portmanteau of "
polyamorous
molecule."
He says this includes people he's known for years, such as the members of his band, Sons of an Illustrious Father, along with new people who are deemed the right fit for the polycule. But if you're looking to join said polycule, be advised that the membership process is selective. "I'm trying to find queer beings who understand me as a queer being off the bat, who I make almost a familial connection with, and I feel like I'm married to them 25 lifetimes ago from the moment we meet," he explains. "And then they are in the squad—the polycule. And I know they're going to love everyone else in the polycule because we're in the polycule, and we love each other so much."
Fittingly for someone who was exposed to the
Kama Sutra
at a pivotal age, Miller uses tantric terms when discussing the varying role of sex and love in his life. "I have more of an ecstatic practice, but I do take to instatic practices at times, so sometimes, I don't have sex for a really long time because a lack of sex is as important to me as sex," he says. Indeed, this played into his mindset for understanding Credence Barebone, an abused outcast who struggles to make connections. Before
Crimes of Grindelwald
went into production, Miller took to Europe, where he spent time in isolation, introduced himself to strangers in character and even started stealing—although he says he was quick to return any pilfered cash. "There's definitely a lot of sexless, lonely time when playing Credence. Absolutely—alone, alone, alone, alone, alone."
---
Miller is a key figure in the
Fantastic Beasts
saga, but if you only know him for one role, it's likely for Barry Allen, aka the Flash. The odd part about the previous sentence is that Miller, who was cast as the big-screen Flash more than four years ago, still has yet to play the speedster in a stand-alone film, with the entirety of his screen time as the popular DC Comics character coming in the form of two cameos (in 2016's
Batman v Superman: Dawn of Justice
and
Suicide Squad
), plus his ensemble role in
Justice League
. Disappointing news for Flash fans came with reports that the film is postponing its planned start of production to allow Miller to shoot the third
Beasts
movie as
the superhero project's pieces continue to solidify.
Is he worried that his solo Flash film may never hit the ground running? Sure, he has plenty of worries—chief among them being the future of our planet ("Humanity is completely ruining our Airbnb account by
how we're treating Earth,
" he quips)—but the fate of a Hollywood franchise seems unlikely to ever cause him stress. "Nothing is ever certain in this world, but as certain as things get, we're making a fucking crazy-dope Flash movie," he promises. "It's one of my great life dreams, and just the fact that we're on the way—anyone who knows about Barry Allen knows he may arrive late, very late, but once he gets there, it's all solved. We have to trust."
If I didn't have art, I'd be so fucking dead—so long ago, I'd be dead. I probably would have done it myself.

And what of all those swirling rumors about the film universe potentially switching up members of its cast, namely
Henry Cavill's Superman
and Ben Affleck's Batman? "When there are these leaks of information—or however people get stuff—it's pretty unreliable," Miller replies cagily.
Miller is proud to be part of what he terms the "Golden Age Part 2 for cinema," particularly because he sees the former Golden Age as one of pyrite. He refers
to pre-Time's Up Hollywood
as "a racist, sexist, rape-culture mess that we still sort of celebrate," and when I ask about his own experiences, he has a lot to say.
"I've survived abuse for sure, for sure, in a lot of capacities, starting from a pretty young age," he says. "There was a close friend who I had a sexual relationship with who really, really turned on me in a violent way. So that
Perks
[
of Being a Wallflower
] story was pretty close to home for me," he says, referring to his role in the seminal coming-of-age tale of Patrick, who is attacked by the high school football star with whom he is surreptitiously hooking up.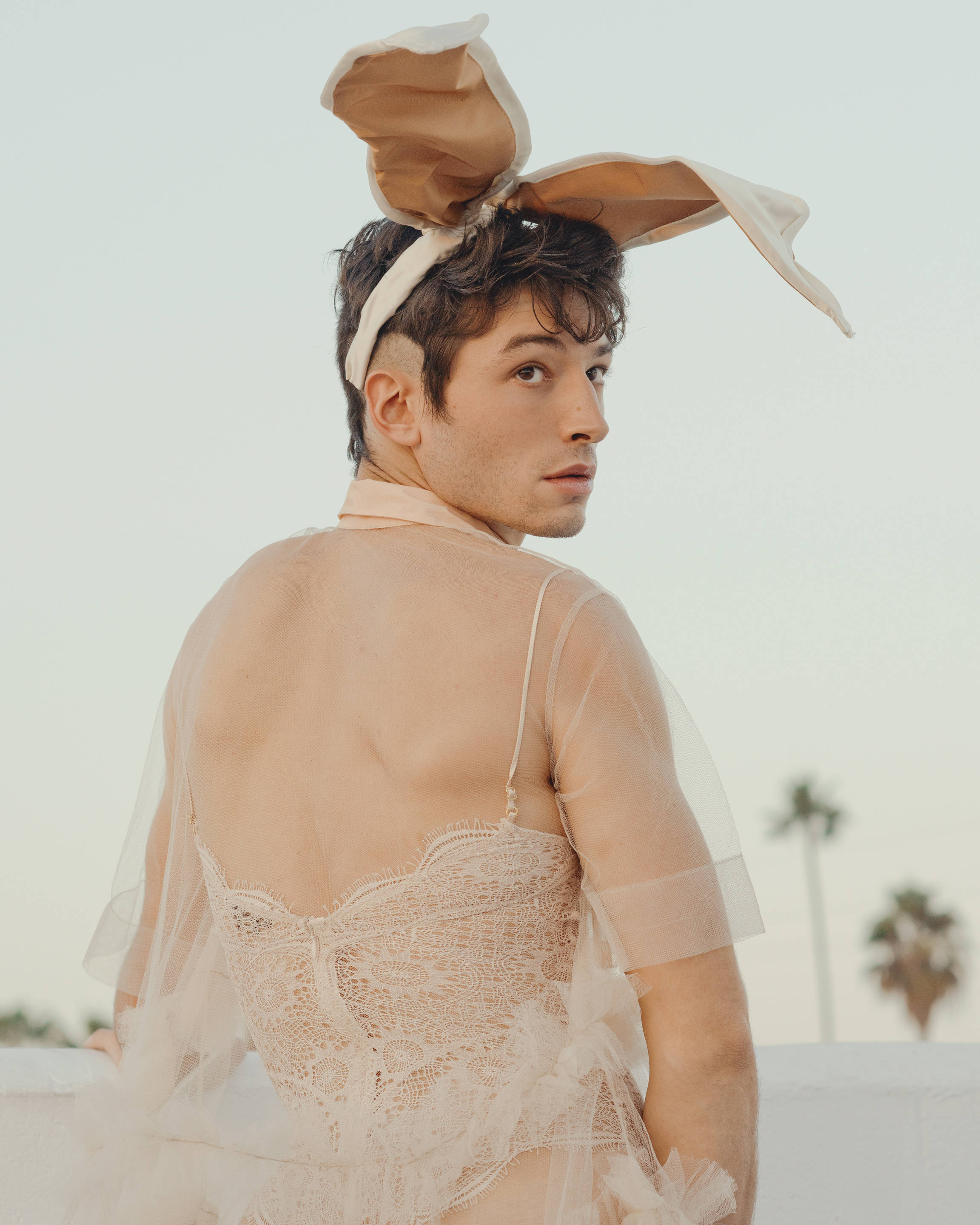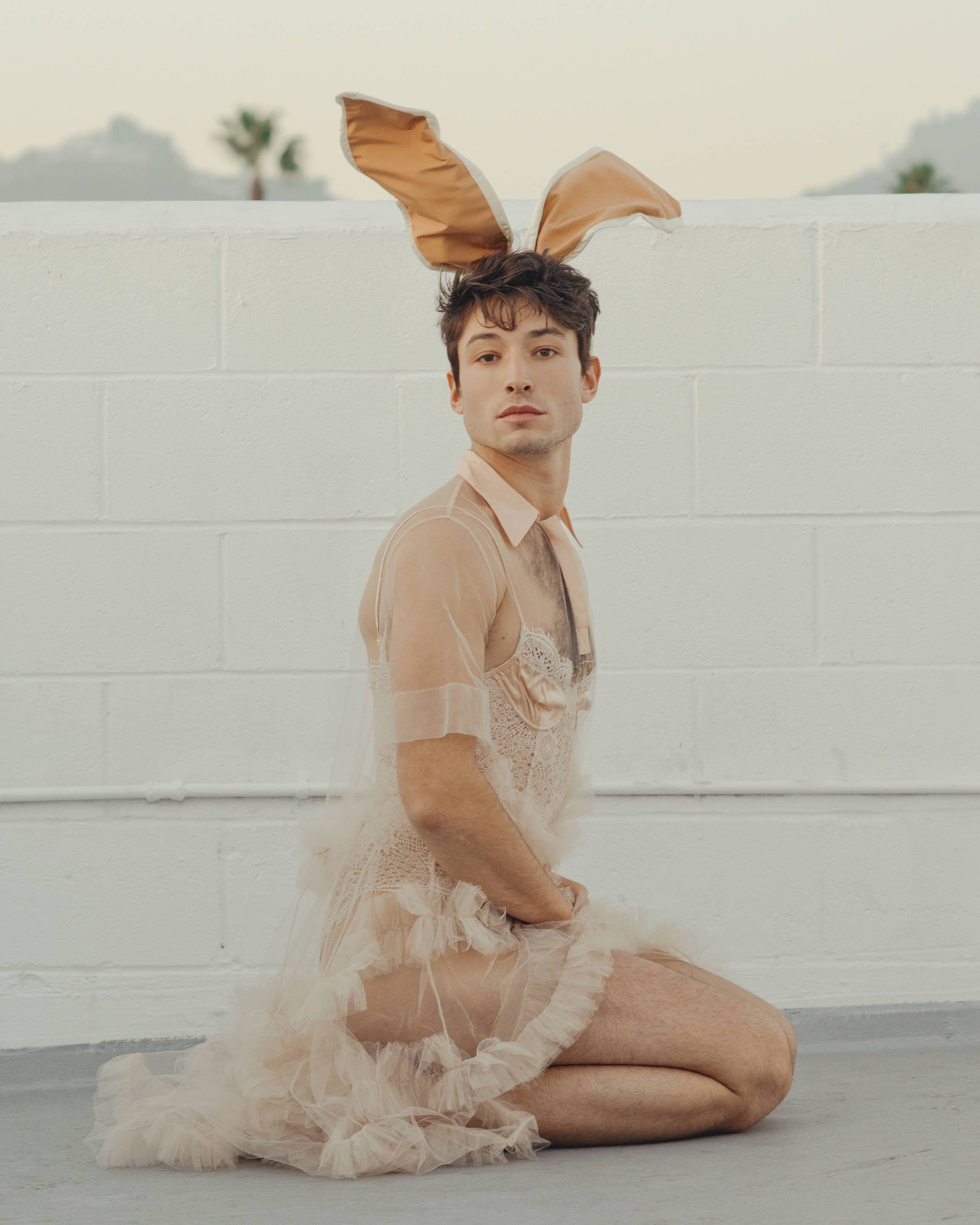 It's at this point, as Miller discusses the abuse he's suffered, that I find myself tearing up.

I'm soon sobbing.

"I've been attacked repeatedly in my life—I've been attacked by fucking bigots, man," he tells me. "Of course I've been in audition situations where sexuality was totally being leveraged. It's really important to acknowledge the diversity of voices who have experienced this shit, and all genders, all capacities, all types of people. Everyone is victim to it. Everyone is a survivor of it."

No. I feel you, baby. I'm crying, too.

He tears up again when I ask how he persevered. "Art is the only thing that I have," he says. "If I didn't have art, I'd be so fucking dead—so long ago, I'd be dead. I probably would have done it myself." He believes in transformative justice and doesn't want any of his attackers behind bars, as he doesn't see prison as making anyone less likely to attack. "The way I see it, I am you, you are me, we dwell in each other, the whole world dwells in you. And anyone can heal the whole world just with parasympathetic magic, using their own body as a cauldron—anyone could do it, just no one has yet. That's why we're all still here 'cause no one's done it yet, so we're just waiting."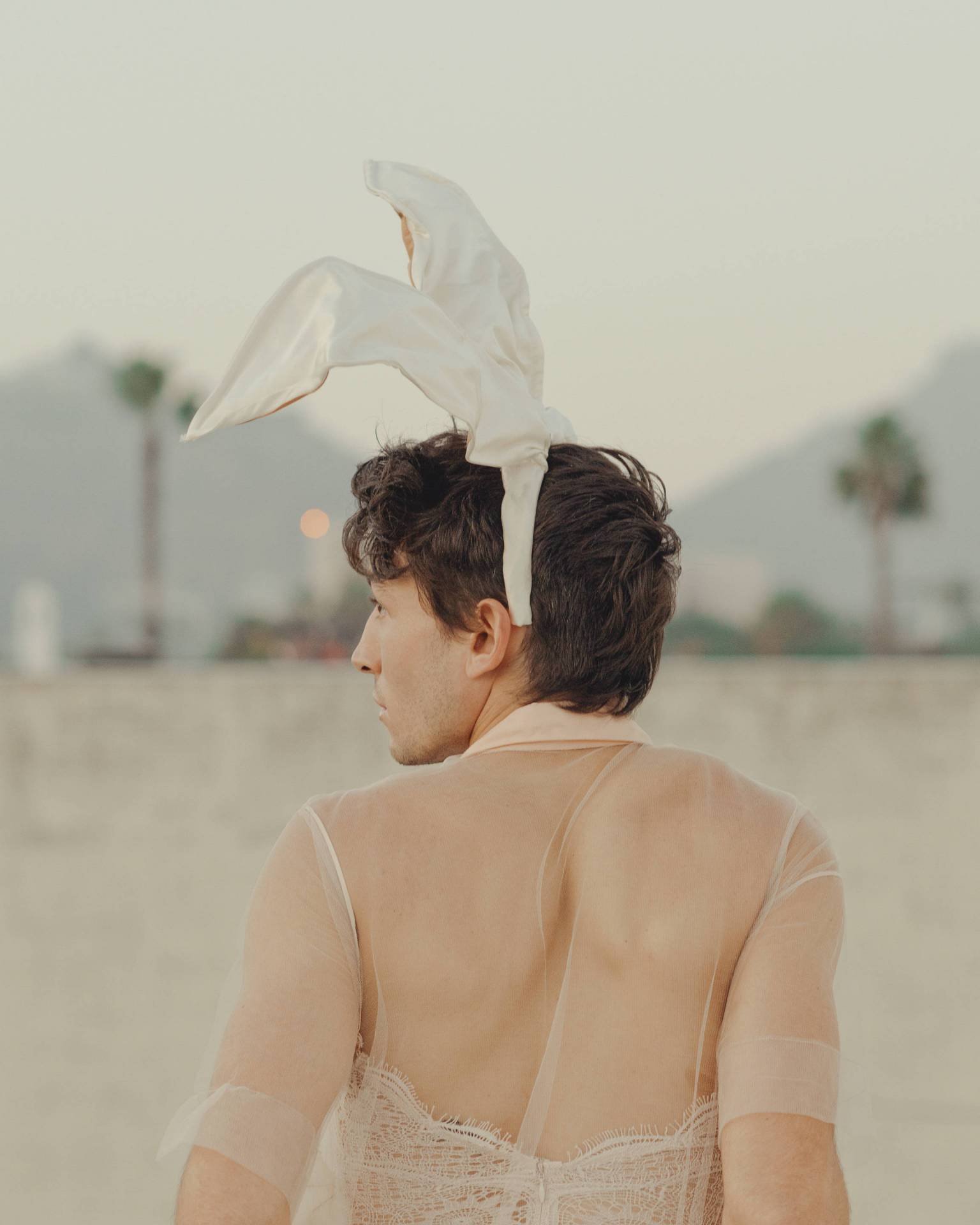 When I apologize for getting so emotional, he replies, "No. I feel you, baby. I'm crying, too." After I cough on his joint, he compassionately tells me, "A journalist who can cry when something hits their heart is the one I would like to read the article of, personally." He adds that working as a journalist today is "like signing up for the Spanish Republican Army—you're toast, bro!" This leads to his heartiest laugh of the day.

Eventually, Miller receives a call from his team to let him know he is extremely late for his flight to Alabama for a film event. And just like that, he switches into speedster mode, grabbing a purple carry-on and stuffing it with his limited belongings, the crystal included. Within seconds, he is out the door and hopping in a waiting car, where he says goodbye to me by placing my hands against his head.

Ezra Miller isn't solely changing Hollywood, I think. He just changed the life of one journalist, who suddenly, however fleetingly, no longer feels like toast.